¡Articulation Station Español!
We are so excited to announce that our most popular app, Articulation Station is now available in Spanish! It's called "Articulation Station Español".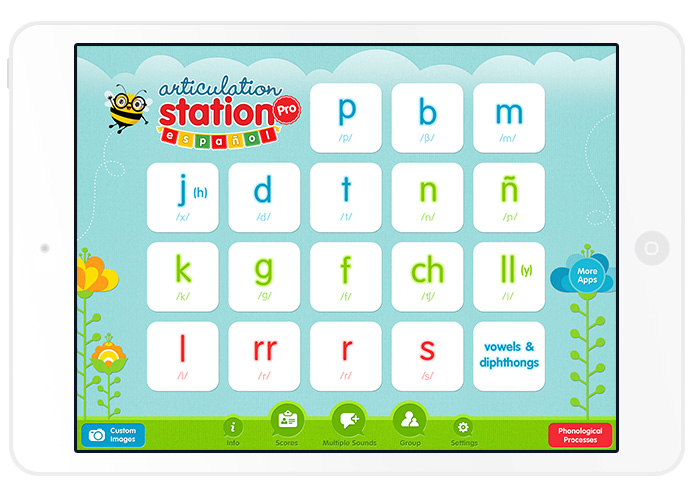 After receiving so many requests for a Spanish version of Articulation Station from bilingual Speech Language Pathologists all around the country we decided it was time to make it happen.
We teamed up with 3 very passionate bilingual speech-language pathologists, an exceptionally brilliant trilingual linguist and a very talented voice actress to bring you the best Spanish articulation app available!
Articulation Station Español was created so that parents, teachers and speech-Language pathologists would have a fun and useful tool to teach Spanish speaking children and adults how to speak more clearly.
Articulation Station Español has 6 engaging activities for practicing the sounds at the word, phrase and sentence levels.
Quick Tips
We have also included "Quick Tips" for how to teach the sounds in each sound program. The Quick Tips help a parent, teacher or speech-language pathologist elicit the correct production of the target sound before the child begins to practice the sound in words, phrases and sentences.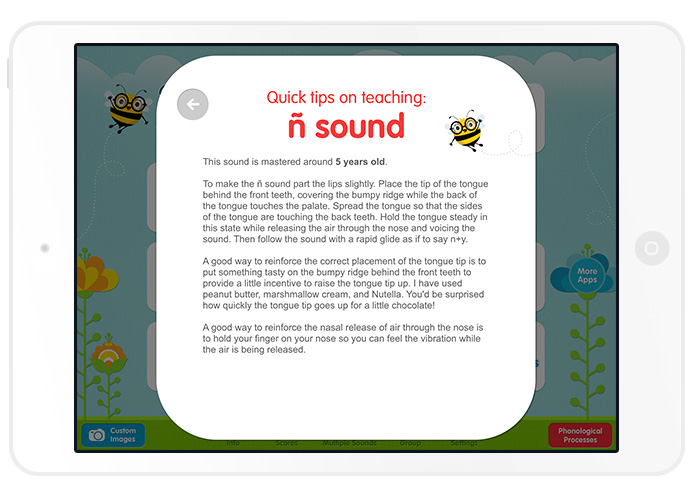 Word Level Activities
We have two activities for practicing the sound at the word level, "flashcards" and "matching." The flashcards help familiarize a child with the target words.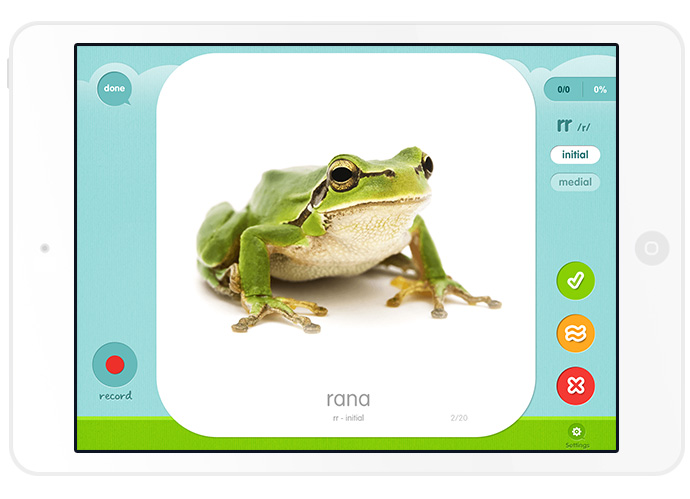 The matching game is a fun way to keep children and adults engaged in the activity as they continue to practice their sounds at the word level.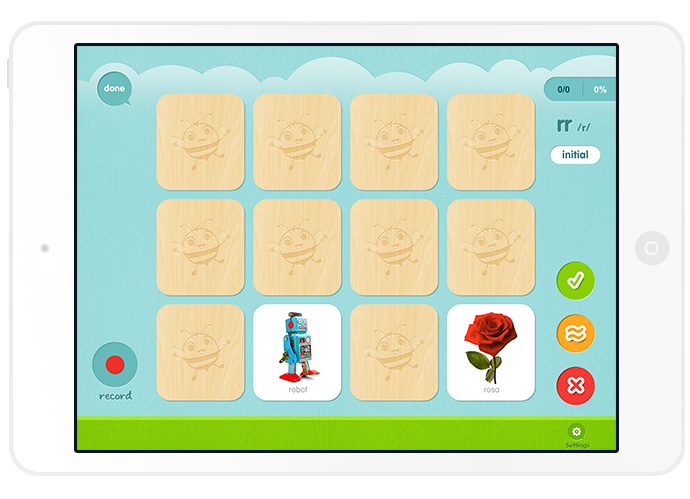 Once the child has mastered the word level you can turn the articles on in the settings. How cool is that? Now the child can practice two word phrases, the target word plus the article.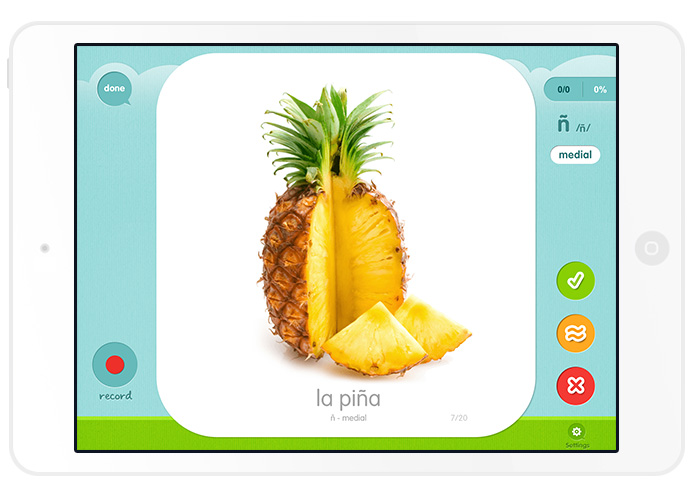 Each target word in the program was chosen very carefully. Regional differences and articulation targets were considered. In the end articulation targets were prioritized over regional vocabulary differences allowing us to provide a consistent number of target words in each sound program. When possible, words were chosen that are common among dialects.
To accommodate for regional preferences Articulation Station Pro Español allows you to add your own words using the custom image feature and remove words or edit word lists using the custom list feature. Watch our video tutorials to learn more about these features.
Phrase Level Activities
There are two activities for practicing target sounds at the phrase level: Rotating Phrases and Unique Phrases.
The "Rotating Phrases" are three word phrases with a "target word" and a "modifier word." The target word has the sound we're practicing in the targeted sound position and the article associated with that word. The modifier word is the word that follows the target word and adds to the meaning of the noun. Both the target words and the modifier words have spin buttons associated with them allowing you to spin one or the other producing hundreds of word combinations.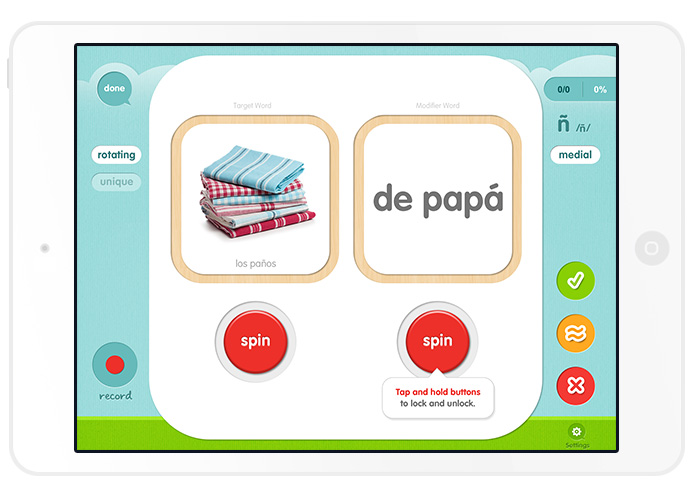 Each unique phrase has between three to five words in the phrase. This makes them the perfect next step following rotating phrases. Additionally, they are generally descriptive phrases which allows you to work on language goals, such as describing things, at the same time.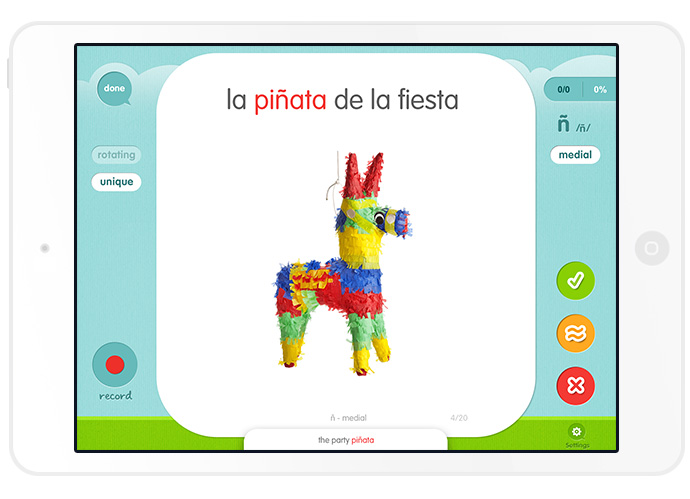 Sentence Level Activities
There are two activities for practicing target sounds at the sentence level: Rotating Sentences and Unique Sentences.
In "Rotating Sentences," the sentence stays the same and only the target word changes. Having the sentence stay the same allows the child/adult to memorize the sentence and practice it with greater fluency. For example: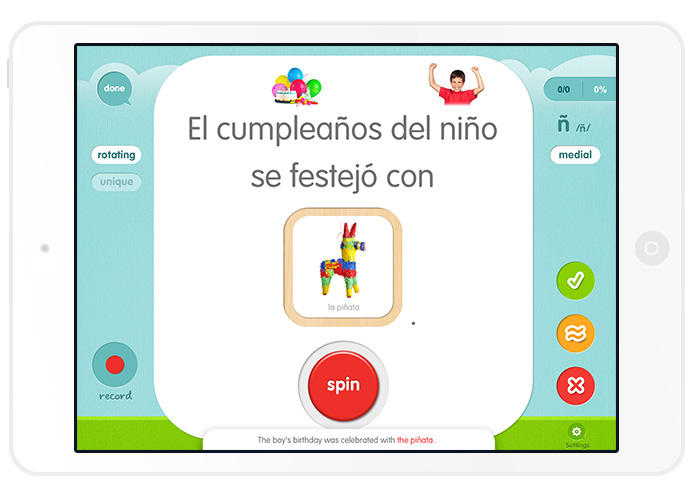 The target word in this example is "piñata". Each rotating sentence also has at least 2 additional words with the target sound in it to maximize practice opportunities. Notice "cumpleaños and niño" in the above example. In addition these sentences have picture prompts to help beginner readers retell the sentence. Besides all that, IT'S FUN! The kids love pushing the spin button in this activity to see what word card comes up next.
Unique sentences are a great opportunity for a child/adult to practice the target sound in more words. Each unique sentence has an average 3 words with the target sound in it. For example: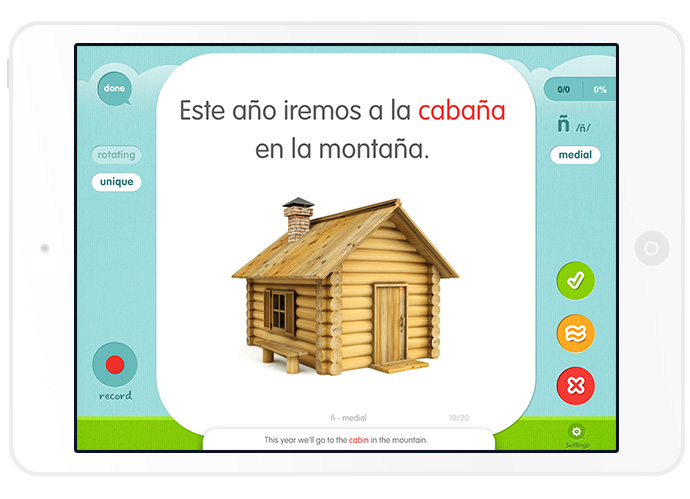 In this sentence "cabaña" is the target word but the medial ñ sound can also be practiced on "año" and "montaña." Each unique sentence is different and fun!
Additional Features
Articulation Station Español also allows you to practice vowels and diphthongs, target phonological processes, work on multiple sounds at one time, add your own custom images, create your own custom lists and work in group sessions. In addition to these amazing features it's a very flexible and user friendly app too!
You can see the app in action in the overview tutorial video:
Articulation Station Español is a free download on the App Store. The P sound comes free with the app and you can purchase additional sounds as needed from within the app.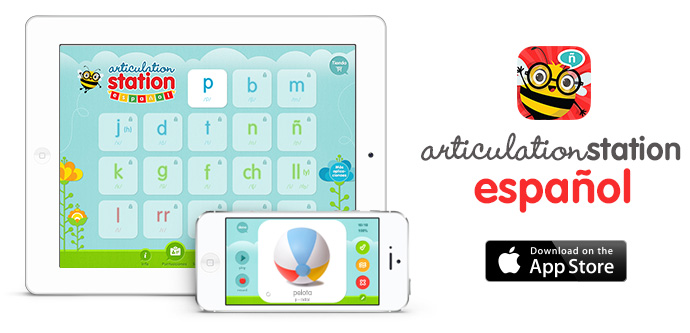 Articulation Station Pro Español comes with all the sounds available plus the added features of: custom images, custom word lists, phonological process, and more. It's available on the App Store for iPad and iPhone.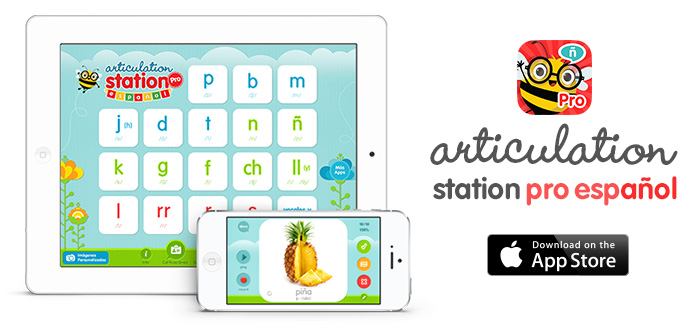 We've LOVED hearing from SLPs that have shared their thoughts on this app with us. Here are a few of them:
"I love that the app takes students from word level to sentence level. It's by far the best Spanish articulation app I have used–thorough and engaging!"
"I have used the English version of Articulation Station for several years now and found it to be, hands-down, the best articulation app. Spanish-speaking children make up at least half of my pediatric caseload and I have long yearned for a user-friendly interface in Spanish. Now it's here! Articulation Station Pro Español! It has everything I want in a Spanish articulation app and I highly recommend it to anyone working with Spanish-speaking clients."
"I work as a home health SLP and the majority of my patients are Spanish-speaking. I am more than in love with this app!"
We really enjoyed developing this app and working with so many talented people to make it happen. We hope that you will enjoy working with Articulation Station Español in helping your Spanish speaking kiddos with their articulation.
To learn more about these apps visit our website:
Articulation Station Español webpage
Articulation Station Pro Español webpage