Articulation Station Update 2.1 – Upgrade to Pro and Get All Sounds at a Discount!
Upgrade to Pro
Articulation Station users, when you update your app to version 2.1 you will then have the option to purchase all of the remaining sounds in the app without having to repurchase sounds you already have. We call this "Upgrading to Pro".
Upgrading to Pro is similar to the "Complete My Album" feature in iTunes. That means you can buy a single sound (or several sounds) in Articulation Station and at any time you have the option to purchase the rest of the sounds in the app and pay only for those remaining sounds. Exciting, right?!
Upgrading to Articulation Station Pro will not only unlock all remaining sounds on the home screen, it will also give you all the additional sounds and features available in Articulation Station Pro and save you money.
How Upgrading to Pro works:
For example, let's say you have purchased six sounds in Articulation Station, (l, r, s, th, k & g) as shown in the image below. In the bottom left corner of the home screen you'll see a blue button with your price to upgrade to Pro. Because you've already purchased 6 sounds (remember, the P sound comes free with the app) the combined price of those 6 sounds is deducted from the overall app price of Articulation Station Pro which is $59.99 USD. So in this scenario the price to upgrade to Pro is only $27.99 USD. Each time you purchase an individual sound your Upgrade to Pro price will drop so when you are ready to upgrade to Pro you will only need to pay for the sounds you have not yet purchased.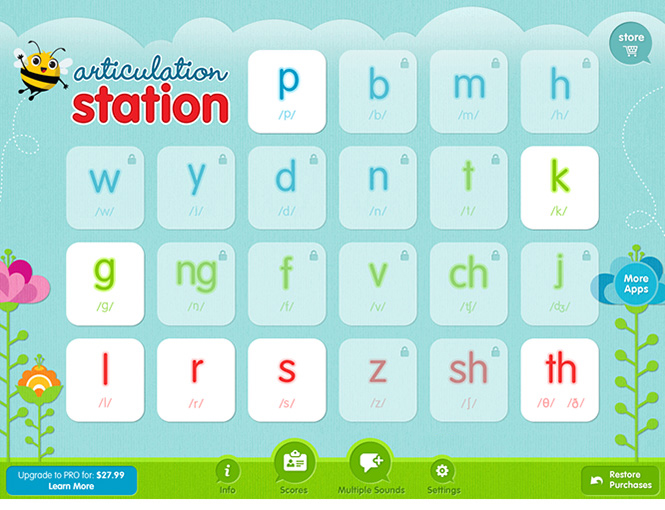 When you tap the "Upgrade to Pro" button on the home screen it will take you to the "Upgrade to Pro" details screen in the store where you can see your unique Upgrade to Pro price as well as the savings you will get compared to purchasing the rest of the sounds individually. In this scenario if the remaining sounds were purchased individually it would cost almost $53.00 USD. By Upgrading to Pro directly you would get all the sounds for $27.99 USD and save nearly 50%! Keep in mind this is only an example to illustrate how Upgrading to Pro works. Your Upgrade to Pro price may be different depending on how many sounds you have already purchased.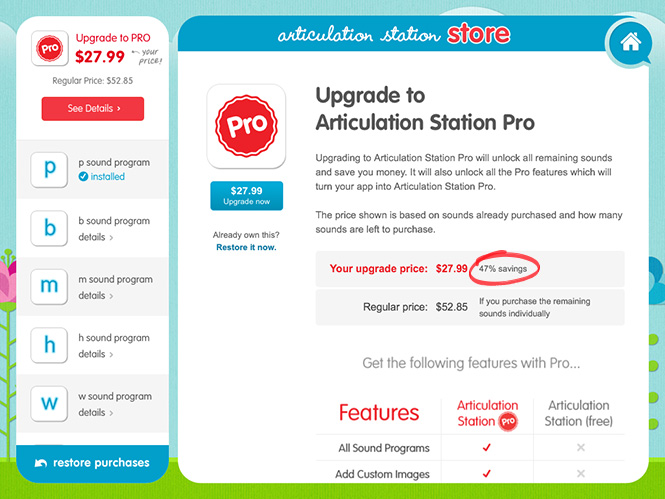 What do you get when you Upgrade to Pro?
When you upgrade to Pro you'll get all the sounds available in the app as well as additional features only available in Articulation Station Pro. You can see these features listed in the chart below. You're app's logo on the home screen will also be replaced with the Articulation Station Pro logo. When you upgrade to Pro, your app will receive every sound and feature that Articulation Station Pro has. Your app will literally turn into Articulation Station Pro and the home screen will look like this: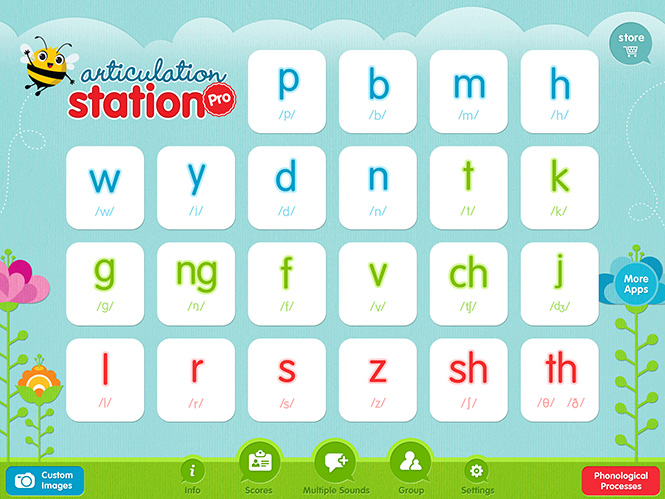 Below is a feature list to compare Articulation Station and Articulation Station Pro. We should note that the group session feature is currently available to all Articulation Station users who have version 2.0 and earlier. If you have 2.0 and then update your app to 2.1 you will still have the group session feature. Otherwise, group sessions is a feature only available to new 2.1 users if they have upgraded to Pro.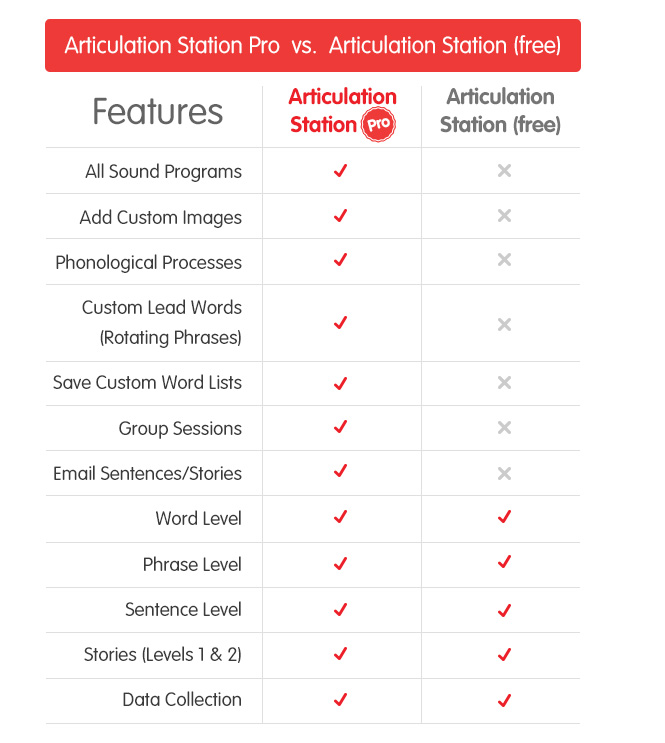 Be sure to update your app today and take advantage of this new Upgrade to Pro feature and get the rest of the sounds you've been wanting, as well as the additional features that come with Articulation Station Pro!
New Email Layout
We've also updated the layout of the scores emails. There are now divider lines and increased spacing to more easily see the scores for each stimulus word.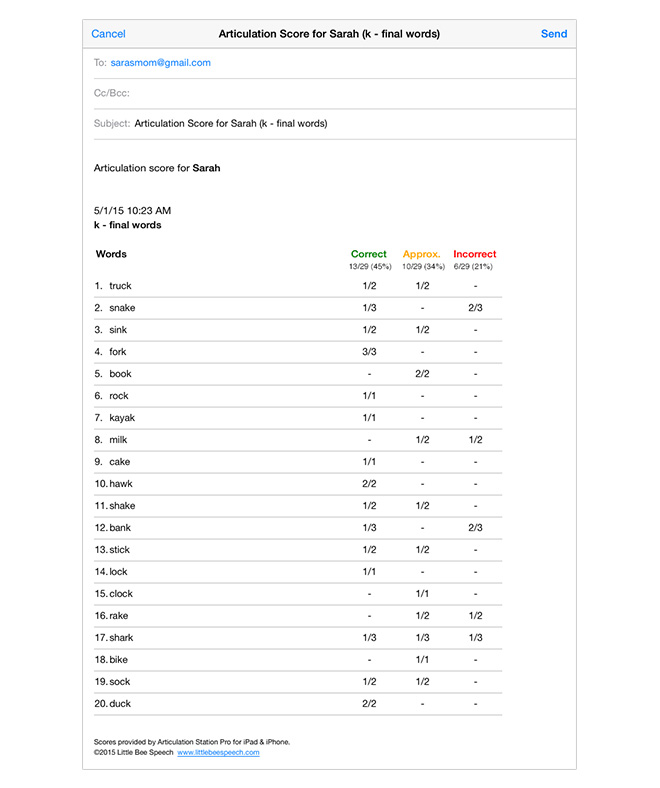 Email Phrases, Sentences and Stories with Articulation Station Pro
If you have Articulation Station Pro (whether you've upgraded to Pro or purchased Pro as the full version) you can email phrases, sentences and stories for homework practice along with the student's scores. This will be another way to help bridge the gap between what the students are working on in therapy sessions at the school or clinic and at home.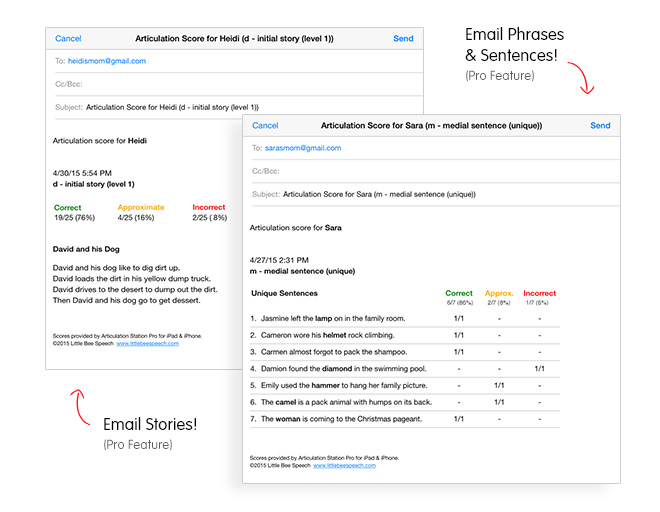 We're thrilled to bring you this update and hope you enjoy the new features in Articulation Station and Articulation Station Pro. Please take a moment to review the app in the App Store. Doing so will help others as they consider Articulation Station, and your feedback will also help us to continue to make this app the best articulation tool it can be!
If you don't have Articulation Station, you can download it here on the App Store and try it for free.